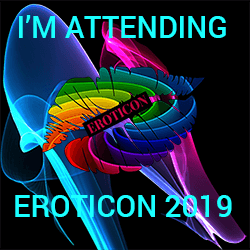 NAME (and Twitter if you have one)
My name is Bianca and you can find me tweeting, lerking and commenting about my paroxisms of lust about nerdy twitter at @helenstoybox
Tell us 3 things you are most looking forward to at Eroticon 2019
1. Being able to put voices to all of the wonderful people I have been sharing my twitter timeline with for so long. I often say I give big squishy hugs if someone needs them. Now, if they want it, I finally get the chance to do it in person and put actions to my words.
2. Goody bags and Kink Craft. Yes, I am a little kid sometimes. I love prezzies and making things to take home. It's one of my biggest weaknesses ever but I am going to stand by it this time and say yes yes yes, I love it and bring on the receiving!!!
3. The moment when I have done my presentation and can go enjoy the rest of the conference. I am so happy I get to be one of the first so the rest of the time is for me. I have never spoken at one of these places before so I am really nervous and hoping I get things right so yeah, I look forward to the end of my speaking bit for that reason.
We are creating a play list of songs for the Friday Night Meet and Greet. Nominate one song that you would like us to add to the play list and tell us why you picked that song.
The song I am looking to put on the playlist this year is Even When I'm Sleeping by the band Leonardo's Bride. It is the quintessential lovesong of my whole life. Just about every partner I have had has had it shown to them and it came out when I was 16 and was with my first love. Fitting that it's at a conference talking about all things love, sex and intimacy.
What is your favourite item or book you've purchased so far this year?
I haven't purchased very many things this year simply because purchases are so frought with feelings for me. I purchased my tickets for going away and that was good but also bad because only part of it is for fun.
There is one thing though that has been good for me and will be good for other friends of mine because of practicality. You can get silicone lube from Wet Stuff that comes inside gel capsules. This is wonderful for blind people and also people with sensory issues. It means they don't have to touch the icky lube but can use it. I told my friends and they are so happy about it because it's going to make their lives easier and I feel good that I was able to do that for them.
You can have an unlimited supply of one thing for the rest of your life, what is it? Sushi? Scotch Tape?
If it were to be a tangible thing, I would say food. Not ever having to worry about how to get it and how to pay for it would be a wonderful thing.
If it were to be intangible, I would have to debate between loving understanding, that feeling when someone just gets you and it is so much mor seldom than it is needed, and inventiveness. That ability to create necessities out of anything you have could do so much good for so many people.
What is your favourite quote from a movie?
I don't really do movies much. I remember bits out of movies but not so much quotes. The whole of Bohemian Rhapsody was amazing and I liked how Freddy used the quote "Good words, good thoughts, good deeds" to trip up his Father who had beat him with that quote his whole life.
What is your word suggestion to next years Eroticon anthology?
Acceptance
Complete the sentence:
I feel…
your fingers, brushing my shoulder, your tempting touch, as it tingles my spine … Dangerous Game from the musical Jekyll and Hyde